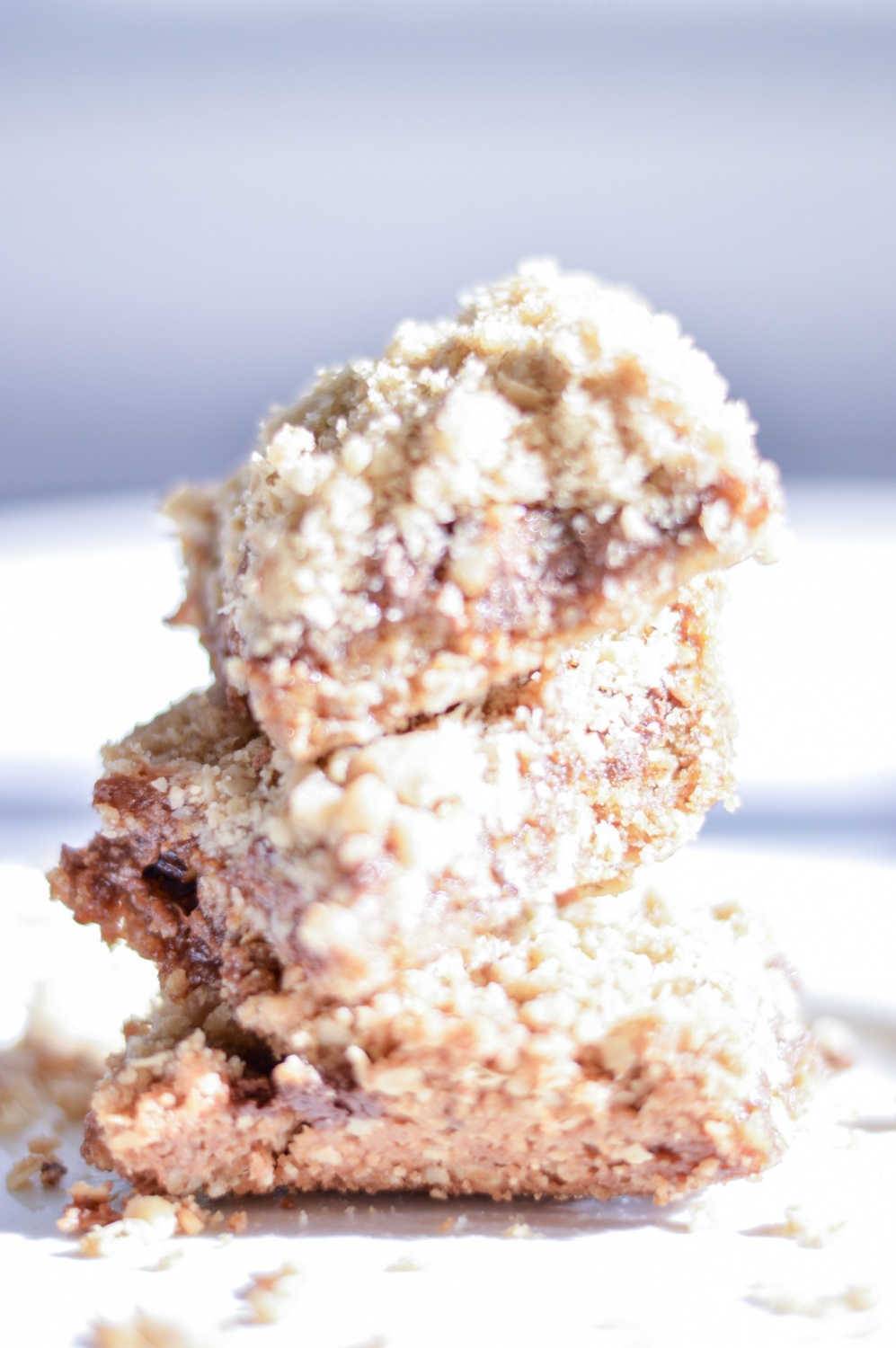 It's safe to say the holiday season is here, right? Thanksgiving is in a couple days and before you know it Christmas will be here. What does this mean? Get togethers, family parties, time with friends. And what do these moments always have in common? Food! What will you be bringing to your events? Try these chocolate chip caramel oatmeal bars and you will be the absolute hit.
I'LL BRING DESSERT
For me, it's always easier to just bring a dessert to any kind of get together. I learned that I loved making treats when I had a Sunday school class that wouldn't participate. To get them to talk I would make treats: slutty cheesecake bars, scotcheroos, seven layer bars, and much more.
I always pick a dessert because I know I won't eat it (I never eat anything I make) and 98% of the time there won't be any left to bring home. When in doubt, dessert it out.
Another great thing about these dessert bars is they are so simple to make. So simple in fact that your kids can't mess anything up. I always get nervous when I have the kids help me, but not with these bars.
SIMPLE GRAB AND GO
Making a cookie or bar is always a great option. If I know that I have to bring a utensil or put it on a separate dish/bowl then I am more likely not to have it.
If you make a cookie or bar though, it's simple for people to grab them as they are walking by and they tend to eat more than they would if they had to serve it up. Does that make sense? I do it all time and I am always eating way more dessert than I should be.
CHOCOLATE CHIP CARAMEL OATMEAL BARS
These chocolate chip caramel oatmeal bars were so simple and quick to whip up. Just head to your local Associated Foods grocery store and grab Food Club items so that you not only will save money, but you will  Now through Dec 27,  when you shop at Macey's and buy a Food Club product, you'll be entered to win hundreds of dollars in Food Club gift cards!
Food Club is a national brand equivalent, which means it's just like the big brands, but it's a better price when you shop at Food Club, you're saving money! Food Club® offers a Double your money back guarantee—that's how sure Food Club is that you are going to love their product. Found at your locally owned and independent grocer—find Food Club® at a grocer near you here.
Let these bars and Food Club® help you this holiday season and let's bring baking bake!
Chocolate Chip Caramel Oatmeal Bars – Looking a dessert bar that will wow every crowd? Look no further than these delicious chocolate chip caramel oatmeal bars. Once you have one, you will want to eat the entire tray. – Food Club® Flour, Food Club® quick oats, Food Club® brown sugar, Food Club® butter, softened, Food Club® salt, Food Club® baking soda, Food Club® chocolate chips, caramel topping, Food Club® chopped nuts (I used walnuts), , Mix flour, oats, brown sugar, butter, salt, and baking soda together. Once mixed, take half of the mixture and put it into a greased 9×12 inch pan. Bake at 350 degrees for 12-15 minutes. Remove from oven and sprinkle with chocolate chips, nuts, and caramel topping (mixed with a ¼ cup of flour). Crumble the remaining mixture on top. Bake for 16-18 minutes. *If you don't have softened butter, cut your butter into cubes and it will soften faster.