When you travel to Hawaii, know this, ONLY PACK SWIMSUITS!
We took clothes, but basically were living in our swimsuits. And why not? They were all so perfect and comfortable.
Especially all our Albion Fit ones. And when I say, we own a lot of their swimwear…I am not kidding!
The quality is fantastic, the variety of styles makes it great for everyone, and so many print options you are going to want them all (just like us)!
Honestly, you could add every single one of these to our list of Hawaii must have items—and you should!
Ready to see our Albion Swimsuits?
Here's what I did. Each image has the names of our suits so that they are super easy for you to find when you check out Albion's site.
What made us do this? Well, we walked into Albion and found each suit. I already had the Wind and Sea shorts in Santorini print, so didn't need to get them, but Emily loved the Blue Crush One-Piece. Quickly, we found the Jr. Swim Trunks for both boys. But when we saw the Mini Ruffle One-Piece and Mini Olivia Two- Piece Set for the girls we were stoked.
How perfect is this suit? It really is the best print for everyone!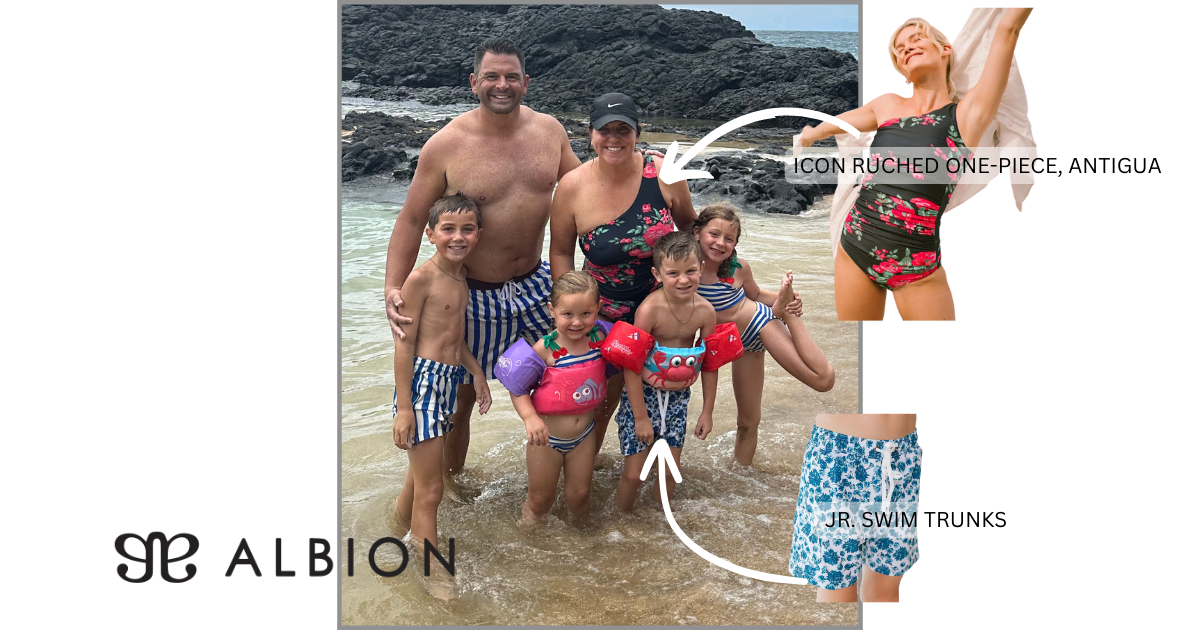 Now can we talk about the Icon Ruched One-Piece in Antigua that Emily was wearing? This is her second swimsuit she got from Albion ever, but has always loved the Antigua print. It's a classic with Albion, and this swimsuit is such a great one!
If you can't tell already, the one pieces are a complete hit around here. The Riptide One-Piece in black is the number one most DM'd suit people wanted to know where Emily got it. The cut is so flattering, and really is Emily's very favorite suit.
Now, to say Alice loves her Mini Wave One-Piece in lilac is no joke! She was wearing this not only to the beach, but would wear it all around the condo the entire trip. She loved the ruffle top so much and the great thing is, you could also make it be an off shoulder option if you wanted.
Olive saw the Mini Olivia Two-Piece set in bluebell when we were in Albion and we had to get it. It is almost a gingham meets houndstooth print, and the blue color is absolute perfection. Olive felt so confident and comfortable and that is all that I cared about.
Now, let's talk Wind and Sea shorts! I am not kidding when I say that I have them in almost every single print they have at Albion. I love that they are not only great for the water, but also the sand (or even gym). When I saw the broad stripes I had to get them and am so glad that I did!